North Florida Trophy Bass Fishing Charter
Florida has an abundance of absolutely incredible bass fishing all year long. Trophy bass roam the waterways in a stealthy manner that allows for an exciting bite. The Rodman Reservoir is home to some of the biggest bass in the state. September Trophy Bass Fishing will provide you an opportunity to land that fish of a lifetime for you.
The Rodman Reservoir is a premier largemouth bass fishing destination in North Florida. Putnam County holds this exceptional fishery that has produced trophy bass year after year. September is not known to be a trophy bass fishing month but this year has been different; but the Rodman Reservoir is on our top largemouth bass fishing lakes in 2018 and for the reasons to come!
Our local experts have been fishing on the reservoir and producing big time. Conditions on the lake have been perfect. The skies have been clear even though the afternoon storms move in. Early morning in September are the most effective time to go fishing. Bass are active feeding before the sun gets up.
Captain Ken Walker knows this reservoir and all the major North Florida lakes. If you are looking to catch big bass in North Florida,
Captain Ken can get you hooked up. Dialing in the technique to catch these trophy bass takes years of experience. Once you have it dialed in though, you can pick up on some of the key patterns that can help you continue to catch them. Get out on the boat with Captain Ken and he can guide you in the right direction.
Captain Ken had the pleasure of fishing with two amazing people on separate days this weekend. Denny and Edward were both traveling to Florida in search of relaxation and to set the hook into a giant largemouth bass. It is always nice when you can get both in one day. While visiting family, they got to sneak away and go bass fishing on the Rodman Reservoir. You would have never expected what was to come in these late summer months.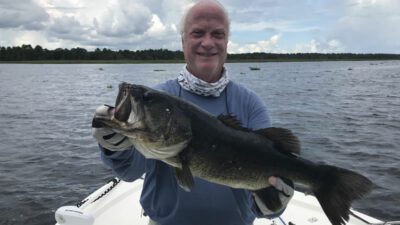 As they were cruising through the reservoir, they started to notice that things were slowly changing on the lake. Weed patches were getting thicker and starting to float around. Scattered patches provided ample cover to the bass that are looking for a meal. Live bait was the best choice and option for bait when it gets like this. You can allow that shiner to run deep under the mats where the trophy bass are waiting.
Denny was the first up to bring an exceptionally large summer time bass to the boat. Letting that shiner run and struggle under the mats called in the big girls. Denny landed his trophy bass weighing 8.6 pounds. The excitement on his face was electrifying and what every Captain loves to see.
Next up on the trophy leader board was Edward. Edward was just moments away from catching the biggest bass of the summer. As he was enjoying the quality time on the water, he let his shiner make way under an extra large mat. It wasn't long after that shiner making a hard run under that it go eaten whole.
After letting the fish eat and watching line pull off the spool, Edward reeled down on the fish and set the hook. He was in for the fight of his life as that fish made waves and movement under this mat. Captain Ken guided him on how to fight a big bass under the mat. It worked especially when he brought the mat and it surfaced itself.
Edward landed a true Florida trophy sized largemouth bass weighing in at 11 pounds 11 ounces. Just to get his hands on this amazing fish was a miracle and something you don't get to see on a daily basis. Everyone dreams of coming to Florida and catching a fish like this. Don't ever count this absolutely breath-taking place out.
Captain Ken is looking forward to getting out bass fishing with these incredible anglers again soon!
North and Central Florida have the best bass fishing in the state. If you are looking to catch your next biggest bass, you have to come to Florida and get out on one of our top trophy bass fishing lakes. Rodman Reservoir Fishing is the place to explore when looking to fish somewhere new. Our local experts will work endlessly to get you on the fish of a lifetime!
Come Catch Yours Today with Capt Ken Walker on the Rodman Reservoir.

If you enjoyed this post with Captain Ken Walker, you might also enjoy this fishing report from the same area.

Book Your Fishing Trip Today!!!

Discover More Ocala Fishing.